GLASS TRANSITION TRAINING, TORONTO, ON

Our glass transition training courses in Toronto, ON cover a variety of key components.
When a rectangular computer display replaces a familiar grouping of flight instruments and data presentation varies greatly from an analog format, pilots might feel uncomfortable and lost when they are expected to control a panel that they have little to no experience with. If you are a pilot and are switching to a glass environment, we are here to help you make this transition easier with our glass transition training courses at Genesis Flight College.
Our glass transition training courses in Toronto, Ontario cover a variety of key components, including:
Sensors—These sensors help you identify failure modes and understand the impact of these failures.
Power sources—You will learn how the control panel receives and uses power when the aircraft is in use.
Standby systems—The best standby systems are designed to resemble the main systems they back up.
Programming—You will become familiar with a variety of programming systems, including those that control moving map displays, alternate screens for weather and traffic, and more.
Every glass transition training course we provide begins with a VFR cross-country simulation. At this time, you will learn how to program pilot references, as well as basic navigation features. We will also teach you how to effectively configure different screens, so you are able to view the information that is most important to you without excessive knob turning.
If you would like to find out more about glass transition training and what it entails, reach out to us at Genesis Flight College. We would be more than happy to answer your questions.
---
At Genesis Flight College, our glass transition training program is available to residents of Toronto, Collingwood, Barrie, Aurora, Brampton, Caledon, Markham, Newmarket, Richmond Hill, and Vaughn, Ontario.
GLASS-PANEL COMPONENTS
G1000 PRIMARY FLIGHT DISPLAY (PFD)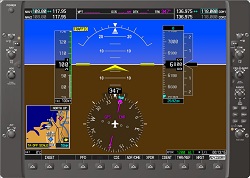 The primary flight display shows the basic flight instruments, such as the airspeed indicator, the altimeter, the heading indicator, and course deviation indicator. A small map called the "inset map" can be enabled in the corner. The buttons on the PFD are used to set the squawk code on the transponder. The PFD can also be used for entering and activating flight plans. The PFD also has a "reversionary mode" which is capable of displaying all information shown on the MFD (for example, engine gauges and navigational information). This capability is provided in case of an MFD failure.
G1000 MULTI-FUNCTION DISPLAY (MFD)
The MFD usually shows engine instrumentation and a moving map.
The multi-function display typically shows a moving map on the right side, and engine instrumentation on the left. Most of the other screens in the G1000 system are accessed by turning the knob on the lower right corner of the unit. Screens available from the MFD other than the map include the setup menus, information about nearest airports and NAVAIDs, Mode S traffic reports, terrain awareness, XM radio, flight plan programming, and GPS RAIM prediction.