WHY DO YOU NEED A GROUP 1 INSTRUMENT RATING?
The Group 1 Instrument Rating allows the pilot to fly single and multi engine aeroplanes in Instrument Meteorological Conditions under Instrument Flight Rules. A Group 1 Instrument Rating is required to be hired as a pilot for any commercial air operator approved for IFR flights.
INSTRUMENT TRAINING AT GENESIS
Instrument flying is a serious business. It is demanding. It takes active thinking. When a pilot gets the instrument rating he is authorized to evaluate weather, dispatch the flight, and is then challenged to fly the airplane in the same air traffic control system and weather systems that the two-crew turbine airplanes are using.
As a graduate, you will be able to reliably fly a multi-engine aircraft in instrument conditions. You will gain exposure to the requirements of flying transport category aircraft safely and with precision throughout the full flight envelope and weather conditions, to the competency level required of a First Officer in a multi-crew commercial flight operation.


Over the duration of your instrument training, you can expect to be flying in actual instrument conditions. We feel it is very important that students get real-world experience with flying in, and making decisions about, conditions that can be expected as a career pilot.
Instrument training completed during PPL and CPL training can be added towards the total times needed for the Instrument Rating. A maximum of 20 hours of simulator time may be used for the rating.
---
At Genesis Flight College, we can help residents of Collingwood, Toronto, Barrie, Aurora, Brampton, Caledon, Markham, Newmarket, Richmond Hill, and Vaughn, Ontario receive an instrument rating.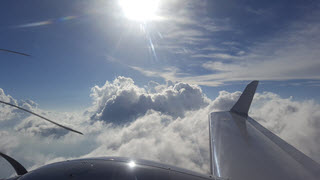 PREREQUISITES
Valid PPL or CPL
Valid, Class 1 Medical Certificate
Multi-engine rating
REQUIREMENTS
An applicant shall have obtained:
70% on the written examination Instrument Rating (INRAT)
50 hours of cross-country flight as PIC
40 hours of instrument time of which a maximum of 20 hours may be instrument ground time
One dual cross-country flight under simulated or actual IMC conditions of a minimum of 100 nautical miles, in accordance with an IFR flight plan, to include at least 2 different locations, and an instrument approach to minima
Successful flight test to the standard outlined in the Flight Test Standard – Instrument Rating (TP9939E)