YOUR PILOT CAREER STARTS HERE
The demand for commercial pilots has never been greater. The pilot shortage in North America is forecast to grow to nearly 30,000 pilots by 2032. The result is increased pilot compensation, choice of aircraft and the airline to work for, and rapid seniority progression. There has never been a better time to become a professional pilot.
The Airline Transport Pilot Licence ATP(A) Integrated Course (hereafter the "iATPL Course") is approved by Transport Canada and approved as a vocational program under the Private Career Colleges Act, 2005. Graduates receive an Airline Pilot Diploma.
WHAT IS AN ATPL?
An ATPL (Airline Transport Pilot Licence) is the highest level of licence a pilot can hold. Commercial airlines require a pilot to hold an ATPL to be a captain. This licence is the end goal for practically all working professional pilots.
WHAT IS THE INTEGRATED ATPL COURSE?
The Integrated ATPL (iATPL) course prepares students without previous flight experience for an airline career track in an accelerated timeframe (18 months). The course includes the ground, flight and simulator training required to obtain a Commercial Licence and Group 1 Instrument Rating, as well as fulfill the knowledge requirements for the Airline Transport Pilot Licence.
YOU CAN BE AN AIRLINE PILOT
Thousands of pilots are needed in the next few years to meet the airlines' demands for pilots. The industry is looking for people that can become successful commercial pilots.
A university aviation program is not required to be an airline pilot. In today's job market, men and women from all educational and professional backgrounds are embarking on commercial pilot training and discovering the fulfillment of doing something they've always wanted to do, FLY.
iATPL COURSE OVERVIEW
The iATPL course is an 18-month full-time program that is divided into 15 modules. Each module contains distinct ground and flight training objectives organized to present material in a logical sequence and to maximize the effective use of time. Students follow the typical progression of professional flight training for an iATPL program in Canada:
Stage 1: Release for solo
Phase 1-1: All required flights up to and including Range and Endurance
Phase 1-2: All required flights up to and including the Solo Release
Stage 2: Solo, circuits and airwork
Phase 2-1: All required flights up to and including the Practice Area Checkout
Phase 2-2: All required flights including Dual Diversions and Precautionary
Stage 3: Navigation, instruments, airwork, PPL flight test
Phase 3-1: All required flights up to and including the Review Flight
Phase 3-2: All required flights up to and including the Private Pilot Flight Test
Stage 4: Crew Resource Management (CRM), SOP, Navigation, Instrument, Night
Phase 4-1: All required flights including VFR Navigation Phase Check
Phase 4-2: All required flights up to and including solo VFR Navigation
Phase 4-3: All required flights up to and including night rating requirements
Stage 5: Commercial Pilot License (CPL) skills and CPL flight test
Phase 5-1: All required flights up to and including 300 nm cross country
Phase 5-2: All required flights up to and including the Navigation Progress Test
Phase 5-3: All required flights up to and including the CPL Flight Test
Stage 6: Multi-engine and Group 1 Instrument flight test
Stage 7: Standard Operating Procedures (SOP) and Multi-crew introduction
Stage 8: Line Oriented Flight Training (LOFT), simulated type rating
CLASSROOM ACTIVITIES
Students will complete 500 hours of classroom training and approximately 300 hours of computer-based training.  Online courses focus on theory and essential background knowledge required for a specific Transport Canada exam.
Classroom courses will review the online material to ensure comprehensive understanding, introduce new topics not directly covered on the exams, and deep dive into complex technical knowledge such as turbine engine operations and airline systems.
EXAMS
In addition to the PPL, CPL, and IFR exams, iATPL students must write and pass two additional Transport Canada written exams (SAMRA and SARON). The SAMRA exam includes meteorology, radio navigation and flight planning, while the SARON exam includes law, flight operations and general navigation topics.
MULTI-CREW COOPERATION
After completing the Instrument Rating and acquiring all required flight time, students will participate in a simulator-based two-crew operations module. This module places students in the cockpit of a multi-engine aircraft, which they will operate as a crew through a variety of scenarios using operational techniques and procedures representative of those found at airlines.
Topics covered in the multi-crew cooperation module include:
Flight deck communication and teamwork
Monitoring and cross-checking
Threat and error management
Flight Management Systems (FMS)
Use of checklists, SOPs
Workload management
LOFT TRAINING
Line-oriented flight training (LOFT) is training in a simulator with a complete crew using representative flight segments that contain normal, abnormal, and emergency procedures that may be expected in line operations.  LOFT training is the last step before graduation.
COST & SCHEDULE
The cost of the course is approximately CAD$145,000 including tax, which covers tuition, compulsory fees, books, uniform, and third-party fees such as aviation tests and exams. The course is billed monthly in advance on a pre-authorized debit contract. In addition to the course price, you should budget housing costs in the Collingwood area at approximately $1,000-$1,100 per month with 3-5 roommates or $1,300-$1,400 per month with 1-2 roommates.   You will also need to purchase a headset and iPad.
The end date depends on the completion of flight training hours and may vary per student. (Usually 18 months).
If you are accepted into the Cadet Program, an additional cost of approximately CAD$15,000 will be required to build flight time in preparation for your 737 type rating.  Graduates of the Cadet Program will begin training on the Boeing 737 Max immediately upon graduation.
Learn more about the Cadet Program.
The iATPL course is approved by Transport Canada and approved as a vocational program under the Private Career Colleges Act, 2005. Graduates receive a Commercial Pilot Diploma.
APPLICATIONS ARE NOW OPEN!
Once you submit your application a representative from our Admissions team will contact you.
APPLICATION PROCESS
Canadian residents only.  Genesis is not authorized for international students.
Before you begin the application process, you should complete your aviation medical.  You cannot proceed through the application process without proof that you have passed the Category 1 Aviation Medical.  Search for a medical examiner near you: https://wwwapps.tc.gc.ca/saf-sec-sur/2/came-meac/
Requirements
Willing to study and work hard
Read and write English up to at least a Level IV ICAO English Language Test Level
High School Certificate/Diploma or equivalent
Complete at least 1 discovery flight. This flight can be arranged when you arrive at the school
Proof of Category 1 Aviation Medical passed.  You will not be able to go solo until the medical is processed and received, which can take 3-6 months.  Plan ahead and get the medical done well before your planned start date.
How to Apply
You can apply online to start the process. Next steps will be:
Brief telephone interview to confirm your information and guide you through the process
Essay, references, school transcripts
Psychometric testing: You will be asked to complete a series of online assessments that evaluates candidates through aptitude, behavioural and ability tests to assess if they are suitable candidates for this intensive program.  A (third-party) fee of $300 is applicable for the tests.
Personal interview
Enrollment offer
Course Deposit
If accepted into the course, you will be required to make a minimum deposit of CAD $5,000.00 to secure your place in the intake. $500 of this deposit will be used for administrative costs. The remaining $4500 will be left as a credit on your student account and will be applied to your program costs once you start training.
FREQUENTLY ASKED QUESTIONS
What is the difference between integrated courses and the modular/traditional way of flight training?
In exchange for a tightly focused course with more ground school, Transport Canada allows for a slight reduction of flying hours and additional privileges such as being able to write the Airline Transport examinations early. Each and every hour of flying is scripted and has requirements to complete. One can't just fly around the patch and expect to get credit toward this license.
Each flight has a clear objective and plan, not just to "build hours". The ground school requirements are higher, and there is a specific schedule to complete the course. Because of the ground school requirements, there is a specific start date for each enrollment class.
See a comparison chart of IATPL and Modular
Why would I do the Integrated ATPL course?
Access to more bank funding.
Some airlines require the Integrated ATPL course to apply.
Only iATPL students are eligible for the  Cadet Program.
You prefer a very structured course with a group of students.
Ability to write the ATPL exams and be "done" with school in a single course instead of coming back to school when you have 750 or 1500 hours to do the ATPL course and exam.
Why would I not do this course?
Due to the pacing and scheduling of the Integrated courses a student needs access to all the funds upfront. If you do not have the funds required for the payment schedule, the modular flight training courses are a good option that enables the student to work part-time to support the educational funding.  Working part-time is not an option for the iATPL due to the intensity of the course.
You already have a pilot licence or a student pilot permit with more than 30 hours of flying experience. A limited amount of credit can be forwarded from previous flight training.
You prefer the flexibility of the traditional modular way of training and want to structure your own training schedule.
Prefer to work at your own pace.
You want to get started before the next session.
How do I get my Transport Canada Medical Certificates?
You can initiate your application before receiving your medical certificate. We will require a copy of your medical to confirm enrollment in the course. Your medical must be a Transport Canada category 1 medical – for more information on where to obtain one, please visit;  https://wwwapps.tc.gc.ca/saf-sec-sur/2/came-meac/
What is the start date?
Course start dates are the first Monday of January, April, or September
How do I sign up?
Fill out our application form.
We'll arrange for a telephone interview. We will discuss the course details, guide you through the next steps, and ensure that this course meets your goals and expectations.
International students are not accepted.
Once accepted into the course, a $5000 deposit is required to hold a slot in the ground school, due immediately upon final acceptance (contract).
How long is the course?
All students in each enrollment class start at the same time. Students stay in the course until they are complete.  The typical duration is 17 months, but it can take a bit longer to complete if there are weather delays.
How do the payments work?
$5000 payable at contract signing to hold the seat in the course. The student will sign a pre-authorized debit agreement to automatically withdraw each of the scheduled payments.
Scheduled payments are $10,000 at the beginning of every month from the start of the course for 14 months.
What is the school Schedule?
Monday to Friday 8am to 5pm. If a bad weather day during the week, then Saturday and/or Sunday will be added to the schedule.  Night training shifts the schedule into the evening.
The daily schedule will vary and can change with each module.  The typical schedule is a half day of ground school and a half day of flight training and self-study. An average of one flight a day is scheduled. Each flight takes 2 hours including prep time, briefing, the flight, and debriefing.
Can I have a part-time job during training?
There is no time for a part-time job due to the intensity of the course.  If you want to work part-time during flight training, then the modular program is a better option.
I have flight training experience. Can I count it?
Only 30 hours can be credited for previous training. If you already have a significant amount of flight training, continue with the modular courses.
How many people are in the class?
Minimum 6, Maximum 15 students in each enrollment class
What are the prerequisites to apply to the course?
Citizenship: Legally entitled to work in Canada, and a citizen or permanent resident of Canada.
Minimum Education: High school diploma equivalent. Post-secondary degree highly desired.
Minimum Age: 18 years old
Physical & Medical Requirements: Must be able to obtain a Category 1 Medical Certificate issued by TC. 
Language Skills: Fluency in English, both written & spoken; a minimum of ICAO level 4 English Language proficiency.
Is there financing available for the iATPL course?  
There are limited financing solutions are available in Canada. It is recommended that you discuss financing options with your bank before proceeding with the application.
Students that are selected for the Cadet Program may be eligible for bank financing through our partnership with RBC.  Instructions for how to apply for your student loan will be provided to accepted cadets.
Is the course eligible for OSAP funding? 
Unfortunately, the course is not eligible for funding under the Ontario Student Assistance Program (OSAP).
Can the course be paid in installments?  
Yes, the course is paid in installments of CAD $10,000 per month.
Accepted students will be provided with an enrollment agreement, which outlines the payment plan for the course.
Where will the training take place?
The flight training course will be conducted in Collingwood, Ontario at Genesis Flight College, located next to the Collingwood Airport (CNY3).
For those accepted into the cadet program, the simulator training for the 737 type rating will take place at a partner facility in Toronto or abroad.  Costs for travel and accommodations for the type rating will be covered by the airline.
What aircraft will be used for training? 
Training is on a fleet of Diamond aircraft (DA-20s, DA40s, and DA-42s), as well as simulators.
What is the duration of the course?
The core iATPL course is 18 months at Genesis in Collingwood. There you will complete your Integrated Airline Transport Pilot License (iATPL) training.
Students selected for the cadet program and hired by the airline will spend another 2 months at a partner facility in Toronto or abroad.  There you will complete a 737 type rating.
This training program is a full-time commitment.  You will be expected to attend training an average of 5 days per week. Due to weather delays, you may be asked to attend 6 days per week as necessary.
How many flight hours will I have when I graduate from the ATPL program?
The iATPL program follows a Transport Canada approved Integrated Air Transport Pilot License training program. You will graduate from the program with more flight and simulation training hours than are required under the regulatory minimums.  Typically, students will graduate with approximately 200 hours of flight time in the aircraft and 80 hours of simulator time.  250 hours of aircraft flight time is required to progress to a type rating.
Do I need to have prior flight experience to apply for the program?
The program is designed for students with zero or minimal experience.  You can still apply with a PPL, but you will get credit for only 30 hours towards the full syllabus.  We consider those who are working towards their CPL or have their CPL or higher to be overqualified for the ATPL course.
ENJOY COLLINGWOOD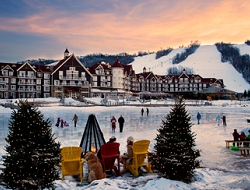 The Collingwood Regional Airport (CNY3) is located near the southern shores of Georgian Bay and in close proximity to Blue Mountain, the Niagara Escarpment, and Wasaga Beach. The region is the most popular major recreation area in Ontario.
DISCOVER THE BENEFITS OF GLASS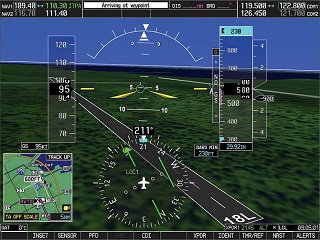 A glass cockpit is an aircraft cockpit that features electronic (digital) instrument displays, typically large LCD screens, rather than the traditional style of analog dials and gauges. This simplifies aircraft operation and navigation and allows pilots to focus only on the most pertinent information.
Genesis features the most advanced aircraft in the region with the G1000 integrated flight management systems in our Diamond aircraft.
GLASS-PANEL COMPONENTS
G1000 PRIMARY FLIGHT DISPLAY (PFD)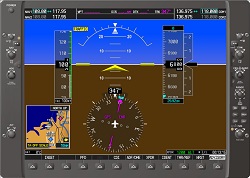 Genesis has completely embraced glass training. 100% of our fleet is glass, incorporating one of The primary flight display shows the basic flight instruments, such as the airspeed indicator, the altimeter, the heading indicator, and course deviation indicator. A small map called the "inset map" can be enabled in the corner. The buttons on the PFD are used to set the squawk code on the transponder. The PFD can also be used for entering and activating flight plans. The PFD also has a "reversionary mode" which is capable of displaying all information shown on the MFD (for example, engine gauges and navigational information). This capability is provided in case of an MFD failure.
G1000 MULTI-FUNCTION DISPLAY (MFD)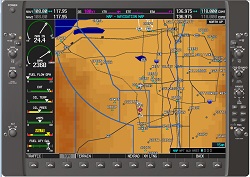 The MFD usually shows engine instrumentation and a moving map. The multi-function display typically shows a moving map on the right side, and engine instrumentation on the left. Most of the other screens in the G1000 system are accessed by turning the knob on the lower right corner of the unit. Screens available from the MFD other than the map include the setup menus, information about nearest airports and NAVAIDs, Mode S traffic reports, terrain awareness, XM radio, flight plan programming, and GPS RAIM prediction.