ADVANTAGES OF A FLIGHT INSTRUCTOR RATING
Becoming a Professional Flight Instructor will provide an opportunity for rewards beyond just employment. Many pilots will attest that the wealth of knowledge and skills acquired as a Flight Instructor will be a great asset to any aviation career. Airlines often hire pilots with flight instructor experience with the aim of advancing them into company training positions.
A flight instructor gets to share their passion for flying by teaching others how to fly. Any way you look at it, getting an instructor rating will increase your level of knowledge and reward you by introducing qualified, safe, and competent pilots to the ranks.
ONE OF THE BEST WAYS TO GET FLIGHT EXPERIENCE
A typical flight instructor can build around 500 hours per year, sometimes much more. Employment in a flight instructor role for even a year can set you up for the rest of career. Additional exposure to how an air operator functions is highly valuable to other employers.
Genesis Flight College is registered as a private career college under the Private Career Colleges Act, 2005.
---
At Genesis Flight College, we can help residents of Collingwood, Toronto, Barrie, Aurora, Brampton, Caledon, Markham, Newmarket, Richmond Hill, and Vaughn, Ontario receive an instructor rating.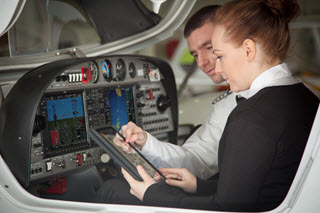 PREREQUISITES
Valid CPL or ATPL
Valid Category 1 Medical Certificate
Completed Private Career College Student Contract
REQUIREMENTS
To achieve your Flight Instructor Rating (Class 4) you must have:
Completed 30 hours dual instruction, including 5 hours in the teaching of instrument flying skills
Successfully completed a flight test to the standard outlined in the Flight Test Standard – Instructor Rating (TP 5537E)
Completed 25 hours of ground school including mandatory subject areas.
Obtained a minimum of 70% on the written examination (AIRAF).