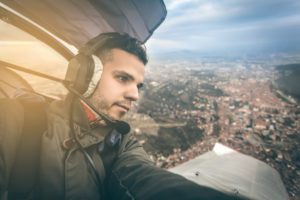 When you fly an aircraft, you must have the right type of licence, depending on what category of aircraft you are flying, where you are flying to, and your purpose for flying. At Genesis Flight College, we are eager to provide the flight training you are looking for. We offer three different licence types:
1.   Commercial pilot licence–When you have a commercial pilot licence, you can be paid for flying. If you want to work in the aviation industry professionally, this is the licence you will need. Our flight training courses are designed to provide proper training while also preparing you to work professionally as a pilot.
2.   Recreational pilot permit–Are you ready to get flying as quickly as possible? Do you simply want to fly for fun? If so, you might want to start off with your recreational pilot permit. Although you can obtain this permit fairly quickly, remember that there will still be restrictions on when, where, and the aircraft you fly.
3.   Private pilot licence–By participating in our flight training program to get your private pilot licence, you will have the freedom to fly at many times and in a variety of aircraft. Earning your private pilot licence is also a good place to start if you want to move forward with more advanced flight training.
Genesis Flight College is registered as a private career college under the Private Career Colleges Act, 2005.