Genesis Flight College now open in Collingwood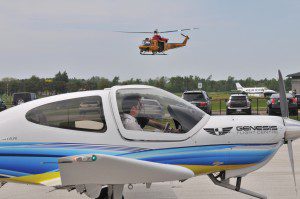 Genesis Flight Centre is pleased to announce that it has been approved by the Ministry of Training, Colleges and Universities to establish a new private career college in Collingwood.  The company will operate its new commercial flight training institution as Genesis Flight College.
Genesis Flight College is a unique private career college offering specialized flight training programs focused on exposing students to the most advanced equipment available in the industry.  Graduates of the Career Pilot Program achieve the core credentials required to begin flying as a career.  The program is designed as a one-on-one training environment in which each student has an individual training plan and dedicated flight instructor.
The most compelling and unique aspect of the college program is that 100% of the training is done in advanced aircraft featuring modern flight instruments (known as a "glass cockpit").  The Diamond DA40 aircraft and synthetic training equipment featuring the G1000 avionics suite provide a training package found nowhere else in Canada.  Students will train right from day one with equipment usually only available to commercial pilots on a jet transition course.
Immersing students immediately in the advanced equipment usually only found on jets has proven to provide a significant edge when competing for jobs in the market.  Employers see value in hiring pilots that already have experience with glass cockpit environments, saving the employer training time and money.
The college will soon offer accommodation packages directly on the airport.  Genesis owns a significant portion of the airport property and is currently in the engineering stage for several new buildings.  The new facilities will include a new home for the college, including modern classrooms, a full service FBO and jet centre, and student accommodations.