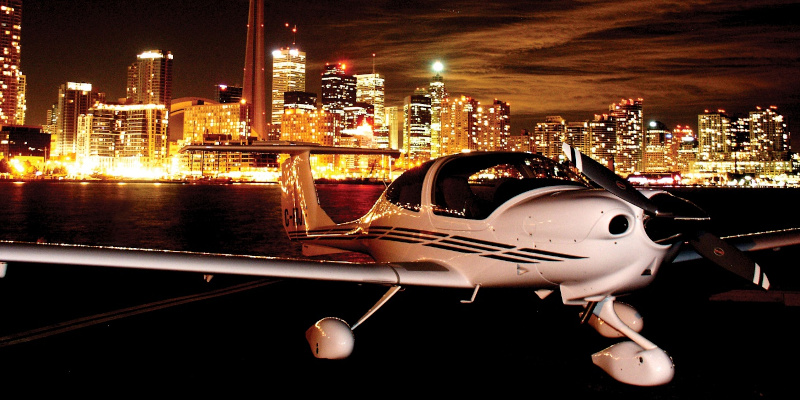 EXPAND INTO THE NIGHT
A night rating is often one of the first ratings a private pilot will complete upon licensing, and can open up a whole new world for you.  Whether that means exploring new destinations or getting together with friends over dinner at an airport restaurant, it's sure to be an adventure you'll always remember.
NIGHT RATING REQUIREMENTS
A minimum of 20 hours of flight training is required, 10 of which must be night flying, 5 must be dual including a minimum of 2 hours of cross country time.  5 hours must be solo; including a minimum of 10 take-offs and landings.  The remaining 10 hours must be dual instrument training; of which 5 hours can be completed in the simulator.  5 hours of the required 10 hours of instrument time can be obtained from your PPL training.
GLASS-PANEL COMPONENTS
G1000 PRIMARY FLIGHT DISPLAY (PFD)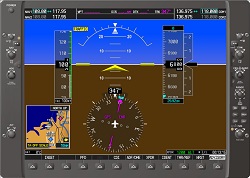 The primary flight display shows the basic flight instruments, such as the airspeed indicator, the altimeter, the heading indicator, and course deviation indicator. A small map called the "inset map" can be enabled in the corner. The buttons on the PFD are used to set the squawk code on the transponder. The PFD can also be used for entering and activating flight plans. The PFD also has a "reversionary mode" which is capable of displaying all information shown on the MFD (for example, engine gauges and navigational information). This capability is provided in case of an MFD failure.
G1000 MULTI-FUNCTION DISPLAY (MFD)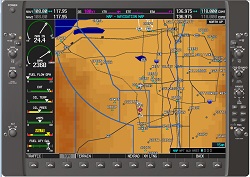 The MFD usually shows engine instrumentation and a moving map.
The multi-function display typically shows a moving map on the right side, and engine instrumentation on the left. Most of the other screens in the G1000 system are accessed by turning the knob on the lower right corner of the unit. Screens available from the MFD other than the map include the setup menus, information about nearest airports and NAVAIDs, Mode S traffic reports, terrain awareness, XM radio, flight plan programming, and GPS RAIM prediction.