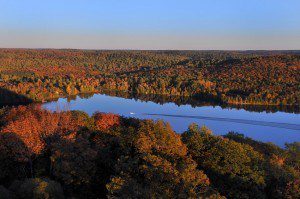 Do you have an anniversary, birthday, or another special occasion coming up? If so, taking one of our scenic flights it the perfect way to celebrate. If you aren't entirely sure which of our scenic flights you'd like to take, here's a quick overview of just a few of the places we can take you.
1.   Blue Mountain and the Niagara Escarpment- When you take a scenic tour of Blue Mountain and the Niagara Escarpment, you will get to enjoy stunning views of the Mary Ward shipwreck. After we cover this area, we will move on to the Nottawasaga Lighthouse and the Collingwood harbour. Finally, we will fly over Wasaga Beach. 
2.   Beaver Valley- One of our most popular scenic flights is our tour that flies along Beaver Valley. If you go on this flight, we will fly over Eugenia Falls, Old Baldy, Lake Eugenia, and many other quaint villages in the Georgian Bay area. To give you a better idea of where we will fly, this tour covers the Georgian Bay Shoreline from the Thornbury area to Collingwood. 
3.   Muskoka- The Muskoka area boasts some of the most stunning views in all of Ontario. When you take this tour, we will fly over places that are only accessible from the vantage point of a plane.
If none of these places appeal to you, please keep in mind that we can customize a scenic flight route just for you. Contact us today for more information about our scenic flights and how you can schedule your upcoming tour.