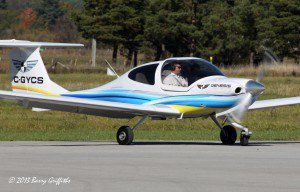 We occasionally get asked why we have chosen new Diamond aircraft for our training fleet at Genesis when other schools are just fine with 30+ year old Cessnas. The short answer: Safety!  We are obsessed with safety.  Diamond aircraft have the best safety record of any aircraft in the air today, including the trusted 172 and 152, and to us, that is all that needs to be said.
The modern safety features on our Diamond aircraft just can't be compared to aircraft built decades ago, even those that are impeccably maintained. What really matters, though, are results — actual safety statistics showing how aircraft perform in the real-life flying environment.
While some manufacturers need to do a lot of massaging of data to come up with just one acceptable safety statistic — for instance, by looking only at one particularly good year, by choosing a larger denominator (e.g., all N-registered aircraft) but then only counting accidents in one geography (e.g., the U.S.) — we invite you to get the full picture of all relevant safety statistics because we know that the record can stand up even to the most analytical scrutiny.
With the strongest safety record in the industry, you can feel confident that we have gone the extra mile to put safety first. The bottom line: Diamonds are extremely safe aircraft.  Aviation Consumer Used Aircraft Guide, February 2008, put it quite well:
"As a company, Diamond has one of the most remarkable safety records in all of light aircraft general aviation. […] In our last in-depth review of accident trends in our September 2006 issue […] Diamond's fatal average was a remarkable 0.16/100,000 flight hours, compared to 1.2/100,000 for the GA fleet. […] Over the years, we have noticed that Diamond airplanes show little tendency toward post-crash fires. In fact, we haven't been able to find any significant fires in Diamond airplanes, which we find to be a remarkable record due in part to the airplane's design. [..] We think Diamond can rightly claim the best safety record in light aircraft GA."
Judge for Yourself – Explore Safety Data and Statistics
To run the queries yourself for specific timeframes, click here to access the NTSB's aviation accident query tool.
Fatal accidents over time, normalized by fleet size:
The Diamond DA20 & Diamond DA40 have the best fatality record when adjusted by fleet size – at 1.2 and 1.1 fatal accident per 1,000 aircraft years, vs., for example, 3.8 and 2.8 for the Cirrus SR20 and SR22.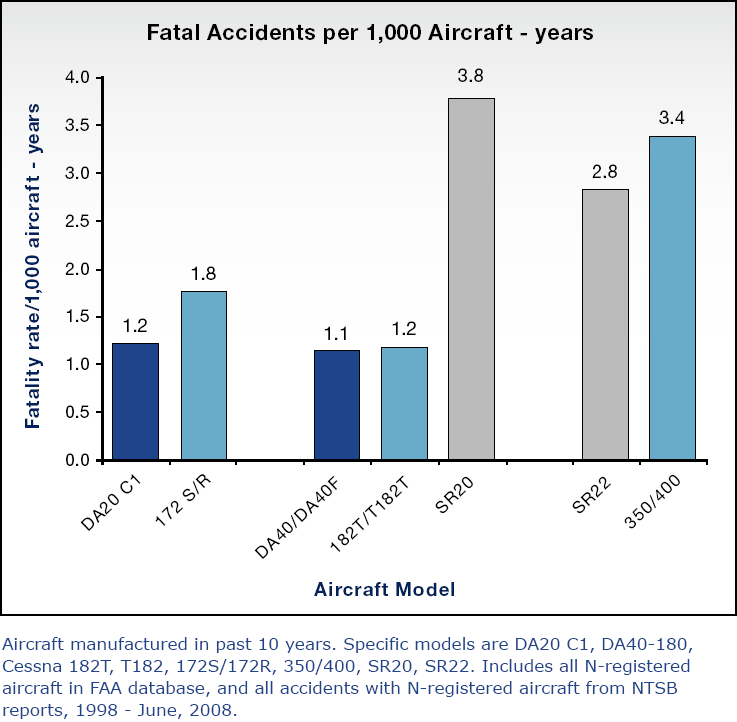 Total mishaps over time, normalized by fleet size:
The Diamond aircraft have the best record in their class. The Diamond DA20 has 10.3 mishaps – compared to 17.3 for the Cessna 172, a plane flown in comparable training missions – while the Diamond DA40 has 4.0 mishaps, much better than the 8.2 for the comparable Cirrus SR20, and slightly better than the 4.9 for the Cessna 182.
Fatal accidents by year:
While annual data is highly variable (due to the big impact of one or several accidents on a finite fleet), the chart over the past five years shows the Diamonds as clearly safer than the Cirrus or the Cessna 350/400 series.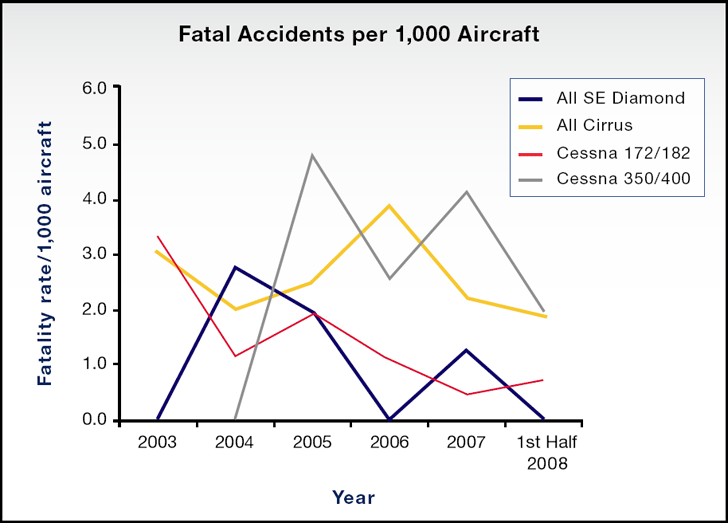 Accidents per 100,000 flight hours:
Comparing Diamond data to large-scale data collected by the NTSB for the entire GA fleet, Diamond again shows an outstanding safety record, at 0.16 fatal accidents per 100,000 flight hours, vs. a single-engine average of 1.27.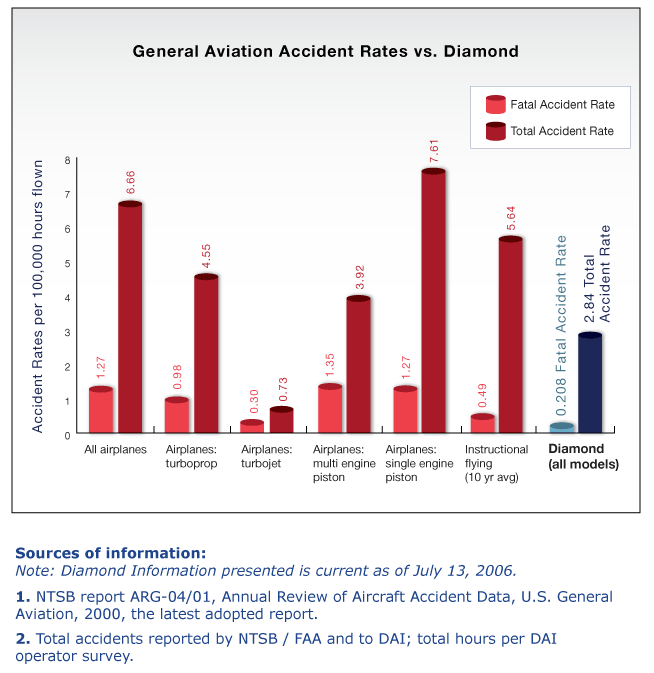 Accident severity statistics:
Not only do Diamonds have fewer accidents, but those accidents are also less severe; 85% of all Diamond accidents don't result in any injuries, compared to only 53% of no-injury accidents for all General Aviation Aircraft.