INSTRUMENT RATING, TORONTO, ON

If you are interested in completing an instrument rating in the Toronto area, we offer more options and the best value in the region.
Train with Glass: If you are planning to purchase a new aircraft or are pursuing your aviation career in the Toronto, Ontario area, you can step up to glass at Genesis Flight Centre. We offer some of the most advanced glass trainers available, with our brand new and fully loaded DA20 offering the best value glass-equipped trainer in the market at only $159/hr wet. Choose the DA40 or DA42 if your goal is to become proficient with the G1000 flight deck and the workflow most common in today's biz jets.
Maximum Value: Costs are minimized for your instrument rating when you expect to use the maximum allowable simulator time. All procedures will be mastered in the sim before you burn any fuel. Combine your multi-engine rating with the instrument training for the most efficient package.
Platform Consistency: The Elite G1000 flight simulator at Genesis Flight College in Collingwood is a perfect complement your training in either the DA20, DA40, or DA42. The consistency between the simulator and aircraft provides a seamless transition from the ground to the air and helps to streamline learning. Ultimately, the consistency of the environment means faster learning and lower training costs. The procedures you will learn with our equipment are easily transferable to any automated flight system, such as a Garmin 430 or 530.
Custom Solutions: Please contact us for a personalized quote.
TYPES OF INSTRUMENT RATINGS:
An instrument rating is issued for aircraft in one of the following groups:
A) Group 1 for all aeroplanes where the flight test was conducted in a multi-engine aeroplane
B) Group 2 for multi-engine centre line thrust and single-engine aeroplanes where the flight test was conducted in a multi-engine centre line thrust aeroplane
C) Group 3 for single-engine aeroplanes where the flight test was conducted in a single-engine aeroplane
---
At Genesis Flight College, we can help residents of Toronto, Collingwood, Barrie, Aurora, Brampton, Caledon, Markham, Newmarket, Richmond Hill, and Vaughn, Ontario receive an instrument rating.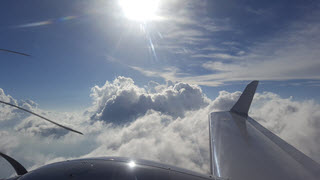 PREREQUISITES
Valid PPL or CPL
Valid, Class 1 Medical Certificate
Multi-engine rating
REQUIREMENTS
An applicant shall have obtained:
70% on the written examination Instrument Rating (INRAT)
50 hours of cross-country flight as PIC
40 hours of instrument time of which a maximum of 20 hours may be instrument ground time
One dual cross-country flight under simulated or actual IMC conditions of a minimum of 100 nautical miles, in accordance with an IFR flight plan, to include at least 2 different locations, and an instrument approach to minima
Successful flight test to the standard outlined in the Flight Test Standard – Instrument Rating (TP9939E)