SCENIC FLIGHTS
One of our goals at Genesis Flight College is to make the joys and thrill of flying available to everyone.
With our scenic flights, you don't have to be a commercial pilot, or even be pursuing your pilot licence, to capture breathtaking views and experience the excitement that comes from riding in a plane. Our college instructors are your scenic flight pilots and they enjoy the opportunity to showcase this beautiful area.
TRAVEL SOLUTIONS
Air taxi services are provided by our partners  FlyGTA Airlines and typically use a six or eight-seat turboprop aircraft.  An air taxi is an efficient and comfortable solution for short-haul flights. The size and capabilities of air taxi aircraft also enable them to land and take-off from shorter runways and landing strips, often providing passengers with access to smaller, local airports that are closer to their final destinations than busier, more popular hubs.
---
At Genesis Flight Centre, our charter flights are available to residents of Toronto, Collingwood, Barrie, Aurora, Brampton, Caledon, Markham, Newmarket, Richmond Hill, and Vaughn, Ontario.
WHAT IS AIR TAXI?
An 'Air Taxi' is an efficient solution for medium-range flights to get you to or from smaller airports not serviced by the major carriers. Our Air Taxi lets you schedule your flight to fit your own personal schedule. Air taxi services are provided by our partners, FlyGTA Airlines.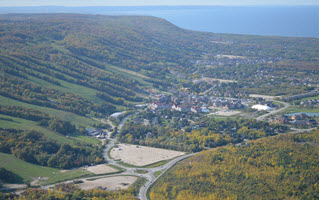 Enjoy a scenic flight year-round. The greens of spring, the glory of summer, the colours of autumn and the stark brilliance of winter. Choose a standard tour or customize your own route.
Create your own schedule, reach a remote location, or simply arrive closer to your final destination than a scheduled service would allow. We'll create the solution to suit you.
Purchase online and gift cards are mailed the next day with a glossy brochure and details of flight options. Cards never expire and can be used towards any flight experience.